Mistress: Patrick Frazee stuffed Kelsey Berreth's body in tote, burned it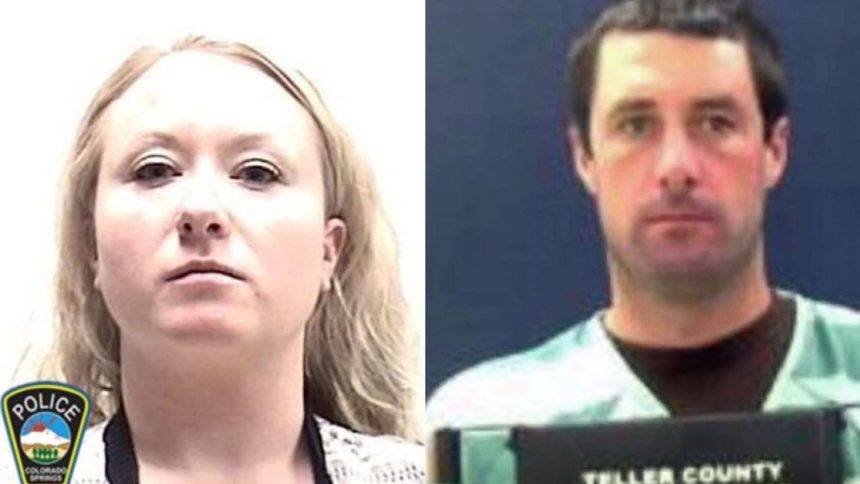 Court is set to resume Friday morning after the bombshell revelations by prosecution witness Krystal Lee, testifying that Patrick Frazee committed the murder of Kelsey Berreth and arranged for Lee to travel from Idaho to Colorado to clean up the crime scene.
Frazee is on trial for first-degree murder and solicitation to commit murder. Berreth was last seen last year on Thanksgiving Day, and her body hasn't been found.
Thursday, Lee testified that she watched Frazee burn a tote with Berreth's body inside of it. She also pointed to spots inside Berreth's apartment that she cleaned up, and prosecutors played a video of the ranch property where Berreth's body was said to be burned. Lee helped narrate that video for jurors.
She told the defense that she was scared for her own life and for her family's lives, and she said she never thought Frazee would follow through with his threats to hurt anyone. She testified that in the two months that she traveled back and forth between Colorado and Idaho, she was coerced by Frazee on multiple occasions to kill Berreth. She said she went to Berreth's apartment on two occasions with a metal pipe and a baseball bat, but ultimately didn't do anything with them. Frazee's defense said that was enough to prove attempted murder by Lee.
Frazee's defense also questioned Lee's motives for providing testimony to prosecutors. Lee took a plea deal in exchange for cooperation, and the defense pointed out that she could be eligible for no jail time after allegedly helping clean a crime scene.
Lee's sentencing won't take place until after Frazee's trial.
During Lee's daylong testimony Wednesday, she described the chemistry that existed between her and Frazee from when they started dating when she was twenty after meeting at the Teller County Fair in 2006. She described seeing him that first time, "He was tall and handsome and we danced and he seemed, from the conversation we had, he was pretty admirable and had his act together, and seemed like a pretty good dude."
A decade later, their on-and-off affair had become sordid, with Lee meeting up with Frazee while she was married to another man. In March 2016, she became pregnant by Frazee, according to her testimony. She said she, "Thought he would be happy and excited and that we'd make it work.
"He was not. He said the baby was going to be a bastard. And he said it wasn't going to look good that a married woman didn't take care of things, and now everyone was going to know," Lee said on the stand.
She said aborted the baby but told Frazee she'd miscarried.
By this time, Frazee and Berreth had been online dating for several months, and by April, she told her family she was moving to Colorado from her home in Washington to be with him. According to Lee's testimony, she was oblivious to Frazee's other relationship.
While Lee was on the witness stand, prosecutors didn't press her on her reaction to finding out Frazee had a family with another woman. She said Frazee began complaining that Berreth had been frequently abusing baby Kayley. She testified that Frazee would tell her Kayley would be injured, on purpose, by Kelsey trying to get back at Frazee.
She explained that's how Frazee first brought up the idea of killing Berreth, although he described it as "getting rid of her."
On three different occasions, Lee described traveling from Idaho to Colorado with the express purpose of harming Berreth, to acquiesce to Frazee's demands. Lee said Frazee "Asked if I would do anything to protect someone who's innocent, who couldn't defend themselves? I said, 'Well I guess it would depend on the situation."
On November 22nd, 2018, Lee described receiving a call from Frazee while she was entertaining a roomful of Thanksgiving guests. She said he told her she had a big mess to clean up, and to travel from Idaho to Colorado as soon as possible to do it. Lee described being unsure as to whether he'd really killed Berreth.
She started the 11-hour drive the following night, arriving at Berreth's Woodland Park condominium around 7 a.m. on November 24, discovering a bloody scene, she testified. She cleaned for four hours with supplies she'd brought from her home as well as some of Berreth's own rags and bags. She testified that she threw out pillows, stuffed animals and other items too blood-spattered to clean.
As to what the two had discussed, regarding the actual alleged murder, Lee had the following conversation with the prosecutor:
"Did you talk to him about what you saw, and what you thought about what you saw?"
" I remember telling him that it was a lot."
"Did he provide any details to you?"
"He said there's a tote in the back of the truck, that he keeps horse supplies in, that he brought that in, and put her in there, and put the bat in there, and took it out to his truck."
Fourth Judicial District Attorney Dan May announced to the courtroom that a brief recess would push back the start of the trial Thursday until 10:30 am.