Houses and cars riddled with bullets during shootout in Colorado Springs neighborhood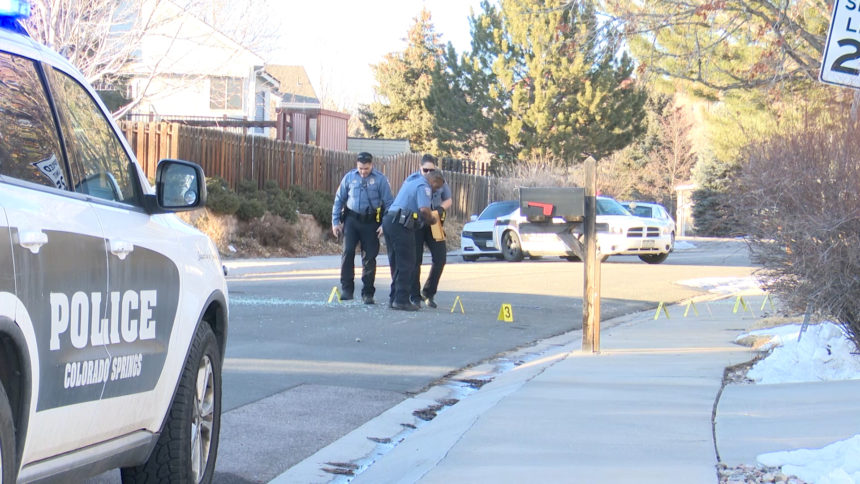 COLORADO SPRINGS, Colo. (KRDO) -- A shootout Friday afternoon in a west Colorado Springs neighborhood prompted several calls to local police, but officers haven't made any arrests yet.
The Colorado Springs Police Department said several cars and houses were hit by bullets around 3 p.m. in the 1100 block of Caldera Drive, just north of Uintah Street.
Residents told police there were several people on the streets shooting and then fleeing the area in vehicles.
One neighbor told officers that an unknown person also came to his door and attempted to rob him. The robbers fired shots and the victim returned fire.
The robbers left in a car and the victim pursued them in his own vehicle. Police say the victim was not injured during the chase and there were no reported injuries.
Sergeant Jason Newton says the Violent Crimes Unit is investigating along with CSPD's robbery detectives. He also added that the Narcotics Division is exhausting all possible leads. No suspect information has been released yet.
Kert Switzer says he did not expect a violent crime like this one to happen so close to home.
"I've been deployed multiple times to Iraq and Afghanistan and it sounded like gunfire," he said. "But knowing that I was here in this community, I figured it was probably fireworks or something along those lines. Nothing of this nature."
Switzer's child was outside riding his bicycle in the front porch when the gunfire erupted. He says he quickly went to rescue his son by shielding him while running back into the house.
"I'm very happy that nobody was injured," Switzer said. "That would have turned this tragedy into something far more serious. I think about that often right now. What could have happened to my child?"
Jaydon Lewis says the area is usually busy with neighbors walking their dogs and driving around. He says the incident could have ended much worse.
"I live here with my dogs that I love, my parents that I love, also a bunch of friends, my girlfriend comes over," Lewis said. "Honestly it's pretty horrifying to think that something like that happened three, four houses down from me."
CSPD is still investigating the incident, and police are unsure of the motive behind the attempted robbery. No arrests have been made, officers said.