Voters likely to decide in 2020 if grey wolves are reintroduced in Colorado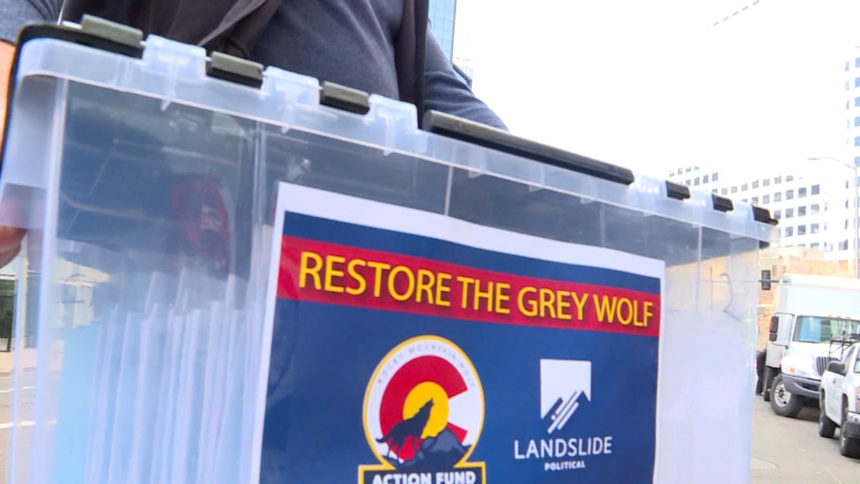 The Rocky Mountain Wolf Action Fund delivered enough signatures Tuesday to let voters decide whether the endangered grey wolf should be reintroduced into Colorado.
The wolf advocacy group presented 211,097 signatures to the Colorado Secretary of State's office, making it likely that Initiative 107 will make it onto the November 2020 ballot.
Joanna Lambert, a CU Boulder professor of environmental studies, advocated for the petition along with Rocky Mountain Wolf Action Fund.
"Our best peer-reviewed science tells us that native species like the gray wolves are essential to the delicate balance of species, species interactions and ecosystem health," said Lambert.
However, ranchers and farmers have raised concerns that the wolves could harm their livestock.
"They're going to sense when those wolves are around so they're going to lose conditions, they're going to lose reproduction rate ability at the level they're accustomed to," said Terry Fankhauser, the executive vice president for Colorado Cattlemen's Association.
The ballot's language states there would be public hearings and plans to compensate farmers if their livestock is harmed.
Fankhauser said he's not opposed to grey wolves coming back to Colorado. However, he doesn't think a ballot initiative is the right way to approach the issue.
"Would wolves want to be here?" asked Fankhauser, who says endangered species should migrate naturally into the Rocky Mountain region. "Do they want to be here in those numbers? Can we successfully introduce wolves in Colorado?"
If voters were to pass the initiative, CPW would have to develop a plan to restore and manage grey wolves in Colorado "using the best scientific data available" and start reintroductions on designated lands by December 31, 2023.
Protection of the endangered grey wolves is currently under federal jurisdiction, but the Colorado Parks and Wildlife Commission has met several times to discuss reintroducing the species. Each time, the commission has rejected the idea.
In CPW's most recent 2016 resolution, the commission stated "the agency cannot afford to take on the management of wolves" and the addition of wolves could reduce deer and elk populations.
Rob Edward, the president of the Rocky Mountain Wolf Action Fund, said CPW has been caving to politics and ignored the growing popularity of the wolf initiative.
"We're breaking the stranglehold of a particular political reality so that we can get on with something that is ecologically important and wildly popular," Edward said.
The Colorado Secretary of State's Office has 30 days to verify that there are enough legitimate signatures so the proposal can make it onto next year's ballot.