Fountain Police: Suspicious vehicle fire under investigation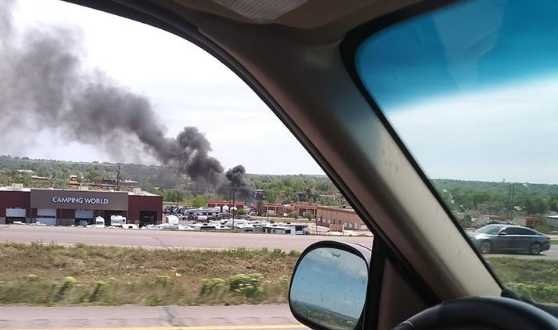 FOUNTAIN, Colo. (KRDO) -- Several viewers reached out to KRDO Saturday, saying they could see smoke from highways in the Fountain area. The cause of the smoke was a vehicle fire -- something that Fountain Police now say appears to be suspicious.
Around 11:30 a.m., officers were called to the 6900 block of Bandley Drive near the Camping World. At the scene, officers found multiple vehicles on fire near a storage unit.
Initially, Colorado State Patrol told us three vehicles were reported ablaze. In an update later Saturday, Fountain Police said a total of seven vehicles were damaged -- four RVs and three passenger vehicles -- although it's not clear how many were specifically set on fire.
Police say the cause of the fire does appear to be suspicious.
Anyone with information, or is a witness to this investigation, is asked to call the El Paso County Sheriff's Office Communication Center at (719) 390-5555; or if you wish to remain anonymous, you may call Crime Stoppers Tip Line at (719) 634 STOP (7867) or 1-800-222-8477. This continues to be an
active investigation.