Accumulating snow likely for some Friday into Saturday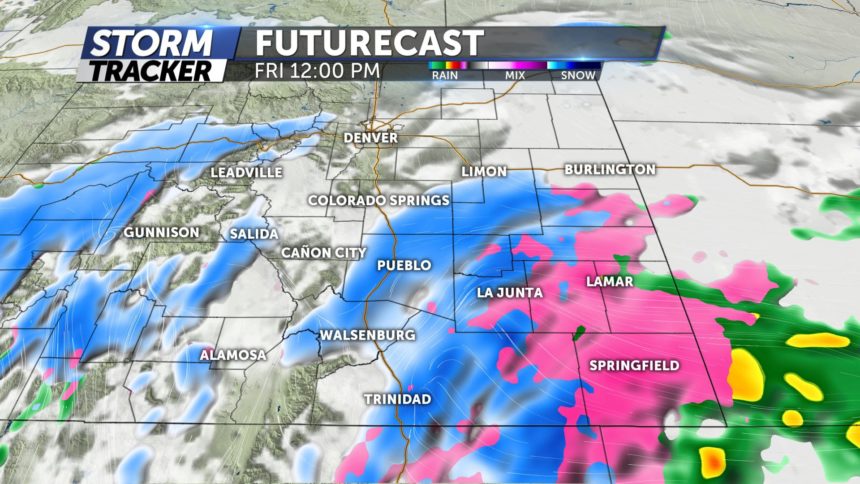 Tonight: Increasing clouds this evening with areas of low cloud cover and patchy fog/freezing fog developing mainly along and north of the Arkansas River late. Over the southeastern plains some areas of freezing drizzle or light freezing rain are possible by morning while a few flurries or light snow showers may develop over and near the mountains. For our major population centers it does not appear we should expect any heavy, widespread precipitation for the Friday morning commute, but fog could significantly reduce visibility and freezing fog could make for a few slick spots over some bridges and overpasses. By morning we expect the air will have cooled into the 20s for most of eastern Colorado with some single digits and teens over the mountains and high mountain valleys.
Friday: Patchy fog and freezing fog will likely hold on early in the morning for the plains along and north of the Arkansas River while some freezing drizzle or freezing rain may fall more steadily over the southeastern plains. By afternoon the freezing drizzle and freezing rain over the southeastern plains could switch to a mixture of wet snow and rain while scattered snow showers will become more likely for areas along and west of I-25. Right now it's hard to pick out an area where accumulating snow is most likely since the precipitation will be somewhat showery in nature over the eastern part of the state, but as the leading upper-level wave with this system approaches the area during the day it's possible that some areas could receive snowfall accumulations on the order of 1"- 4" under any heavier bands of snow. Accumulating snow and widespread winter driving conditions look more likely over the high country on Friday, particularly over the southwestern part of the state. The air should remain pretty chilly for much of the day with most areas in eastern Colorado only warming into the 30s although a few spots on the other side of the Palmer Divide could reach the 40s for a short time during the afternoon. After a lull Friday night, a period of wind driven snow will likely affect parts of eastern Colorado on Saturday.