Drivers escape with minor injuries after crash on Highway 287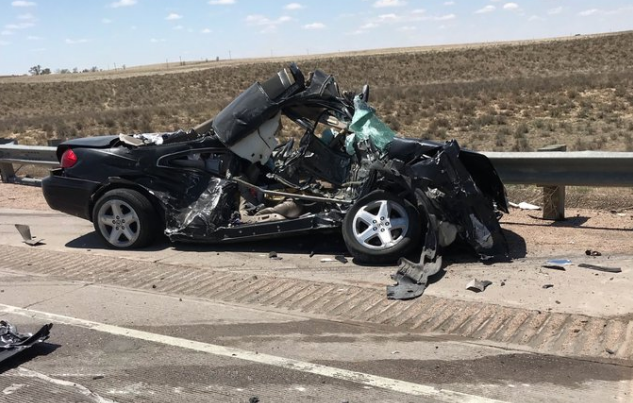 CHEYENNE COUNTY, Colo. (KRDO) -- A three-vehicle accident that closed Highway 287 produced some gruesome wreckage, but the Colorado State Patrol said all drivers came away with non-life threatening injuries.
Around 11:35 a.m. Friday, troopers were called to a crash near mile post 131. A car had driven into the northbound lane and clipped a northbound tractor trailer, causing the car to rotate. That's when a second tractor trailer hit the spinning car and pushed it to the side of the highway.
The first trailer went off the side of the highway at a bridge and came to rest on its roof in the river bed. The second semi came to a stop in the southbound lane.
The wife of the driver whose semi truck landed on its roof tells KRDO her husband sustained broken ribs and a broken arm.
"He's alive and that's a miracle in itself," she wrote in an email to KRDO.
In a tweet later Friday, CSP posted a picture of the wrecked passenger car while saying the driver sustained only minor injuries.
"Driver [was] wearing his seat belt, minor injuries," the post reads in part. "Seat belts save lives folks. Please buckle up."
Update from previous. Traffic on HWY 287 is alternating now. Still have Hazmat working on spill off the Hwy. this picture is the passenger car. Driver wearing his seatbelt, minor injuries. Seatbelts save lives folks. Please buckle up. C-18 pic.twitter.com/gsPEPBsBKO

— CSP La Junta&Lamar (@CSP_LaJunta) May 8, 2020