Jury selected for Patrick Frazee murder trial, opening statements begin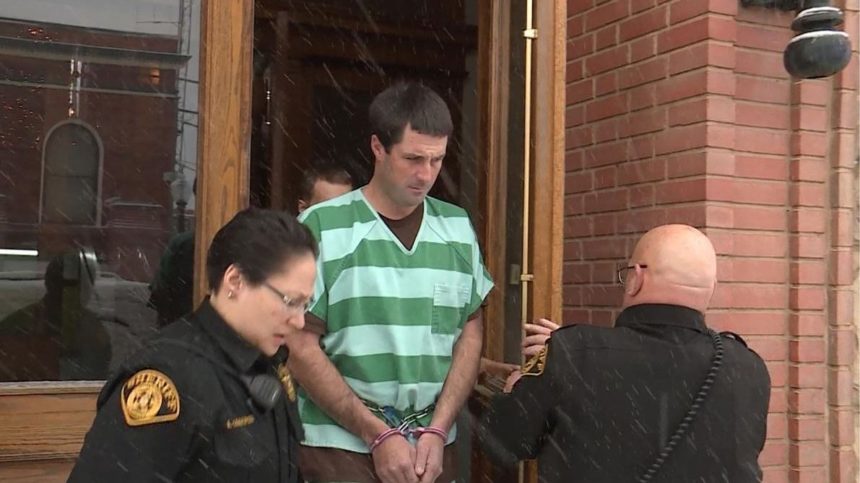 Nine women and seven men will decide if Patrick Frazee is guilty of murder after his fiancee, Kelsey Berreth, disappeared last November.
Berreth was last seen on Thanksgiving Day, and though Berreth's body hasn't been found, Frazee has been charged with first-degree murder. The charges came after a woman testified to authorities that Frazee conspired to kill Berreth on multiple occasions.
Opening statements began at 2 p.m. and prosecutors laid out their case for accusing Frazee of murder.
"This face, this man is a killer," prosecutors said. "This is a face of a man who within a few short minutes is going to commit a horrific, inhumane act."
Prosecutors outlined Frazee's relationship with Berreth, saying they met online and that Berreth moved to Colorado to be with Frazee. Over time, their relationship deteriorated, and Frazee attempted to "poison everyone against Kelsey," according to prosecutors. Frazee would tell friends that Berreth was a bad mother and that she abused the couple's daughter. Nothing has been presented at this point to substantiate those claims.
Prosecutors read text messages between Frazee and his mistress, Krystal Lee, who claims he asked her to kill Berreth multiple times.
Lee said she has known Frazee for about 10 years, and she would travel from Idaho to Colorado to meet with him. She was married to another man but had an affair with Frazee over eight years before divorcing him.
Prosecutors said Frazee manipulated Lee into thinking Berreth was a bad parent, and he told Lee, "an innocent is going to be harmed" unless they did something. In Sept. 2018, Frazee recommended that Lee poison a coffee drink for Berreth. Lee said she didn't add anything to the drink, but she introduced herself and offered it to Berreth. She didn't accept it.
Frazee was reportedly upset with Lee for not going through with the poisoning and offered her two more chances to kill Berreth in October, 2018, according to prosecutors. Frazee wanted Lee to kill Berreth with a pipe and then with a baseball bat. Lee told police that she didn't go through with either opportunity.
It wasn't until Thanksgiving Day that Frazee killed Berreth, prosecutors say. Lee told investigators that Frazee had blindfolded Berreth with a sweater and asked her to guess the scent of a candle. That's when he allegedly struck her in the head with a baseball bat and killed her. According to prosecutors, Lee said Frazee told her, "Do you know how hard it was to murder her and then have Thanksgiving dinner with my family?"
Frazee was seen on surveillance video leaving Berreth's Woodland Park townhome around the time that Berreth was reportedly last seen, district attorneys said.
Prosecutors then showed text message and call logs between Frazee's phone and Berreth's phone later that afternoon into the night. On Thanksgiving, Frazee called Lee and said she had a mess to clean up, and he said to come prepared. Phone records tracked Lee going to Florissant and Woodland Park.
The prosecution says Lee told investigators that she helped clean up a bloody crime scene at Berreth's townhome, but she said she intentionally left a spot of blood for police to find.
Lee showed investigators a burned dirt spot at a property in Nash Ranch where she says Frazee took Berreth's body and burned it in a black tote. Investigators said they dug through the burned spot and found a tooth fragment.
The prosecution said Berreth's death was "calculated."
When Frazee's defense began opening statements, they largely called Lee's credibility into question.
Frazee's defense attorney said Lee didn't voluntarily come forward after Berreth's reported disappearance, and that investigators had to track her down after seeing phone calls with Frazee.
The defense said Lee hired an attorney shortly after being contacted by police, and she cut a deal with prosecution to spend no time in jail. They pointed out that Lee had lied to her family, friends, and investigators in the case.
Ashley Porter, one of Frazee's defense attorneys, said no murder weapon has been found, Berreth's body hasn't been found, and the only blood jurors will see is "tiny, minuscule spots of blood under the floor boards." She added that Frazee has cooperated with law enforcement, gave his phone, and took pictures in the nude so investigators could see any marks on him.
Porter said there are many parts of Lee's story that isn't corroborated, and there is "unknown individual's DNA" found at the scene that hasn't been explained.
"It's not until it comes crashing down that she blames Patrick Frazee," said Porter.
Earlier: Jury Selection
Starting Monday, prosecutors and defense lawyers started whittling down hundreds of potential jurors, eliminating those who showed a bias toward Frazee, or admitted to following news coverage. On Wednesday afternoon, individual interviews concluded.
Starting Friday morning, 90 jurors remained and nearly filled the Teller County Courthouse.
Fourth Judicial District Attorney Dan May began asking questions to the entire group, sometimes focusing on one person. At one point he asked if they'd recognized a murder while walking down the street. A majority answered no.
The defense focused on asking jurors if they could provide Frazee a fair trial despite having their own opinions.
By noon, the deselection process started. Twelve jurors and four alternates were chosen.