Yemi Mobolade declares victory in Colorado Springs mayoral runoff election, Wayne Williams concedes
COLORADO SPRINGS, Colo. (KRDO) -- Less than twenty minutes after the first batch of results came down in the Colorado Springs Mayoral runoff election, a candidate has conceded.
Just before 7:40 p.m. Tuesday, Republican Wayne Williams took to the podium to announce he was conceding to Independent Yemi Mobolade.
According to the first batch of numbers, Mobolade had a more than 17,000 vote lead on Williams. KRDO learned Williams called Mobolade after his speech to officially concede to him.
Watch Mobolade give his acceptance speech below:
Colorado Governor Jared Polis released a statement just before 8 p.m. congratulating mayor-elect Mobolade. He also thanked Colorado Springs residents for participating in this election.
"Thank you to every Colorado Springs resident who voted. Congratulations to Mayor-elect Yemi Mobolade on his victory and I look forward to working with the Mayor-elect to help save people money in Colorado Springs, make Colorado one of the ten safest states, and move Colorado Springs forward."

Gov. Jared Polis
Previous Reporting
Tuesday night's runoff election was due to none of the 12 mayoral candidates receiving more than 50% of the votes - which is required. Williams and Mobolade were the top two candidates in the race and faced off in the runoff election.
Williams previously said he wants to carry on with what current Mayor John Suthers has built.
Tonight is the mayoral runoff in #ColoradoSprings.
Yemi Mobolade vs. Wayne Williams.

Wayne Williams has been in numerous elections. He's won and lost.

But he's got a tradition every night before an election.......he sings. #copolitics @KRDONC13 pic.twitter.com/ayE7nN3pRz

— Spencer Soicher KRDO (@spencersoicher) May 16, 2023
Ahead of the results, KRDO reporter Sean Rice was at his watch party where everyone was all smiles and hopeful for the night ahead.
Colorado Springs Mayoral hopeful Yemi Mobolade has arrived at his watch party. He is all smiles this evening. @yemiformayor @KRDONC13 pic.twitter.com/qkRhLQAL8p

— Sean Rice KRDO (@SeanRiceTV) May 17, 2023
Following the first batch of results which dropped just before 7:20 p.m., Mobolade had a strong lead over Williams. Voter turnout is just over 36% according to the City of Colorado Springs.
Below is a view of Williams and his campaign team as they viewed the first batch of numbers released. The numbers were dropped just before 7:20 p.m.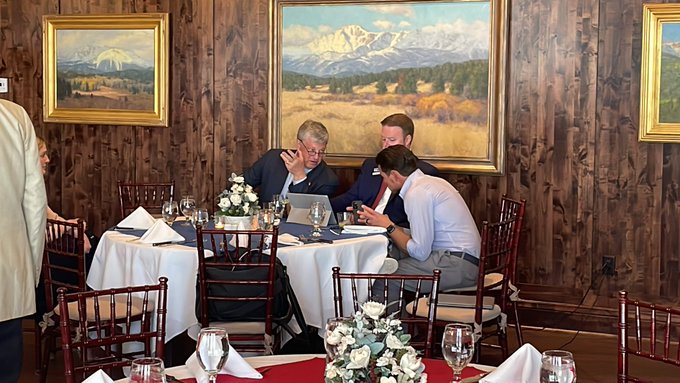 At 7:34 p.m., Williams stood in front of his team and supporters and announced he was conceding.