The stage is set for Avalanche, Kings in Colorado Springs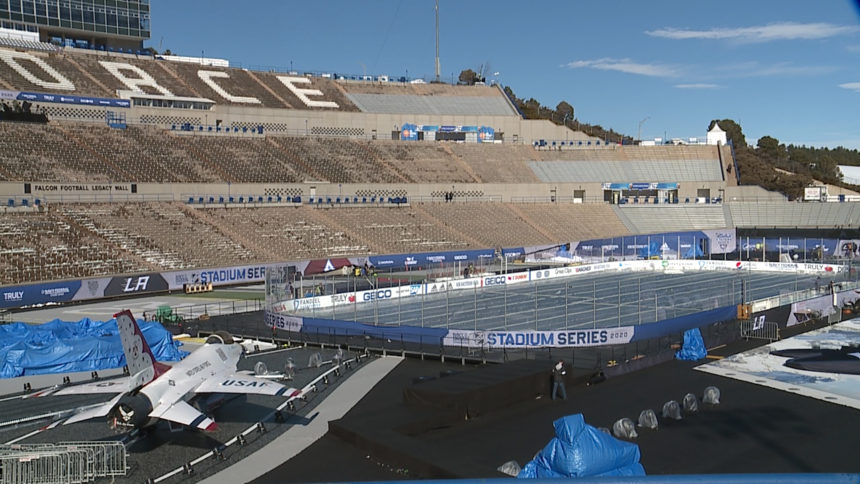 COLORADO SPRINGS, Colo. (KRDO) -- Are you ready for outdoor hockey on a grand scale? The Air Force Academy is.
This weekend the Colorado Avalanche will take the ice against the LA Kings right here in Colorado Springs.
On Friday, crews continued to prepare as 45,000 fans are expected to pack Falcon Stadium Saturday night.
Steve Mayer, NHL Chief Content Officer said, "We are sold out, and that's always a great thing. "
After their first visit back in 2016 where they played on Coors Field, Mayers said that they could not wait to get back. But where would they play? The NHL felt the Air Force Academy was a perfect setting.
"All of the themes, the traditions, everything we saw from a football game we are going to transfer over to a hockey game. And we hope at the end of the day we are truly honoring Air Force," said Mayer.
Puck drop won't take place until after 6 p.m., but events leading up the game are set to take place all day.
"Starting at 1 p.m., all of the games are open, we've got meet and greets with some of the biggest names in the history of U.S Hockey, that will be in our fan fest area, our pregame area. And then, the Stanley Cup is here," said Mayer. "There is also the opportunity to put a stick in your hand and shoot a puck, there's an opportunity to have food outside of the stadium and then go inside."
As for if the Navy Federal Credit Union NHL Stadium Series will come back to Colorado that remains to be seen. But Mayer says they are making the most out of their current trip.
Mayer said, "One of the things that we do take pride in is giving our fans a truly incredible experience from the time they get out of their cars all the way to the time they get back into their cars."
Gates will open at 4 p.m. and the puck will drop around 6:20. With thousands of people expected, officials say come early.
Parking around the stadium will cost $30 and it's cash only.